Customers worldwide can buy over the phone, or from these leading outlets:
United Kingdom









United States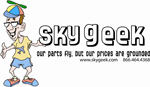 Join us on:


01-08-2006
More types announced for series.
Read press release

Follow the production of Wings in Focus here.
Our lists are never sold for commercial use - so rest assured that there is no danger of you being bombarded by unwanted emails.